Beef Information
We are pleased to present our strictly grass-fed, grass-finished beef. Grass fed/finished means NO grain, only grass and legumes, the way ruminants were created to eat. The health benefits are numerous – to name a few: Grass-finished beef is higher in Omega-3 and CLA (conjugated linoleic acid) and lower in fat. We like to finish off our steers on the most lush grasses so you will notice our beef is typically first available in late summer/early fall.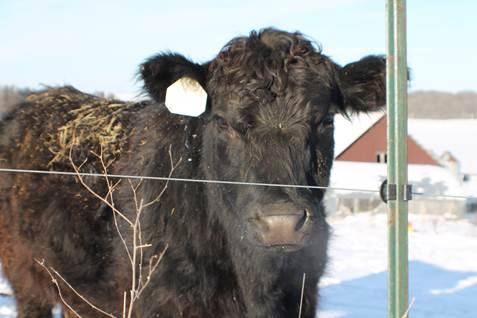 At Dominion Valley Farm we raise our Galloway beef on pasture 365 days a year. Our beef is sold in individual packages, in 25-pound boxes of assorted cuts, and in 10-pound boxes of ground beef (10 individual 1-lb. packages). The price for the 25-lb box is $250.00. Cuts included in the box are a sirloin tip or rolled rump roast, chuck roast, 5-6 pounds ground beef, beef patties. There are also quite a few different steaks which are included. You would receive 5-6 packages of these different cuts: New York strip steak, Swiss steak, sirloin steak and rib eye steak. Other beef items can include brisket, short ribs and soup bones.

Beef tenderloin is sold separately, pending availability. Ground beef is also available at $7.75/pound or a 10-pound box (10 individual 1-lb. packages) for $72.50 (2016 prices quoted).

There are times when we have individual beef cuts available for sale, usually later summer and fall. Please see Product List and Pricing for a detailed list. We do not take specific orders for these individual items but will have some available at the farm and farmers' markets.

Order early to ensure availability! We will contact you when the beef is ready for pick-up.