Farmers' Market Information
Milwaukee County Winter Farmers' Market


Located indoors!

Saturdays from 9 a.m. to 1 p.m., November 2, 2013 to April 19, 2014 (no markets November 30th; Dominion Valley Farm will not be attending on November 23rd).
Newly located in the Mitchell Park Horticultural Conservatory, better known as "The Domes," 524 South Layton Boulevard, Milwaukee.

NO admission fee!, NO parking fees!


Click here for...
Facebook Page





West Bend Farmers' Market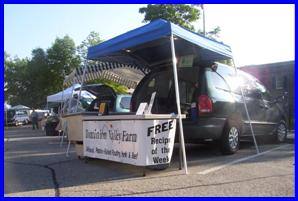 Saturdays from 7:30 a.m. to 11:00 a.m.
June 1, 2013 - October 26, 2013
Located in old downtown West Bend, just south of Washington Avenue/Hwy 33; one block east of 7th Avenue.
Facebook Page



Lake Country Farmers' Market

Every Thursday from 3 p.m. to 6 p.m.
June 6, 2013 - September 26, 2013
Located at the Tyme Out Youth Center, intersection of Hwy K and Hwy C, town of North Lake/Nashotah

Click here for a link to the market's facebook page...
Facebook Page